Travertine Floor Cleaning Services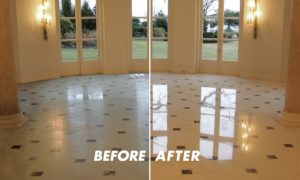 Travertine, a type of limestone, can be left in its natural state, with no polishing. Travertine is a sedimentary rock formed from calcareous remains of plants and animals or precipitated from solution. It is natural Calcium Carbonate (CaCO3) and will yield lime when heated. Varies in hardness. Etched by acids. Porous with many visible holes, often filled with epoxy. Polishing powders tend to accumulate in the holes and can make clean-up difficult. Because it is soft and has epoxy-filled holes, it should never be cleaned at pressures above 800 PSI and then only if the grout and the epoxy filling are in good condition. Choose Medic for your Travertine Floor Cleaning Services, Anaheim, CA
Travertine is one of several natural stones that are used for paving patios and garden paths. It is sometimes known as travertine limestone and as travertine marble. The stone is characterized by pitted holes and troughs in its surface. It comes in a variety of colors from grey to coral-red. Travertine is most commonly available in tile sizes for floor installations.
Travertine is etched by acids, including soft drinks and juice. Acid-based cleaning chemicals can also etch. Absorbs oils and other liquids and is more easily stained than marble. Therefore, putting Travertine in a kitchen or heavily used bathroom is not a good idea. Travertine should only be cleaned with a neutral or mild alkaline-based cleaner.
Travertine can be used for countertops but it's not recommended. It is easy to scratch and etch. It works well for flooring, accessories and smaller spaces. This stone seems to open up small areas and makes them feel more spacious and airy. The surface finishes for travertine stone vary. Not all travertine are capable of the polished high gloss finish – only the harder types. This stone will never achieve the same glossy finish as marble. and granite will.
Travertine can have four major finishes: polished (shiny), honed (matte), brushed and tumbled (textured surfaces). The type of finish given to the travertine will determine how shiny the surface will be. The most common finish for travertine is honed. Travertine Floors are very popular in Anaheim and the Orange County area and is the dominate tile floor cleaning that Tile & Stone Medic excels at.